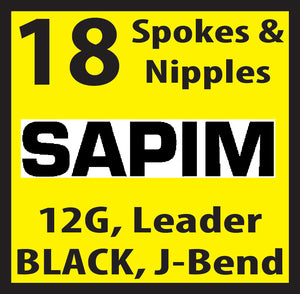 12 Gauge, Sapim Leader, Black, 18 Spokes with *SILVER* Nipples
Regular price $48.00 Sale
Pick your own length for a set of 18 custom cut 12-gauge Sapim Leader spokes with matching brass Sapim 12-gauge nipples.  The 12-gauge nipples that come with these spokes are silver.
A terrific spoke for e-bikes, cargo bikes, pedicabs, and other bicycles with heavier-duty wheels.
The Sapim Leader is a straight gauge (non-butted) spoke, black in color, with a J-bend head.
No tax if shipped outside of Virginia.
Free shipping.
Our shop has prepared and delivered tens of thousands of custom-length spokes. Each and every spoke is precisely measured on our Phil Wood spoke machine. Every thread is checked before shipping.